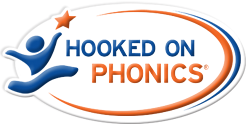 For those who want to give their growing toddler the very best with a well designed home-learning program to give them a head-start, Hooked on Phonics is the right choice. This is a colorful, fun and easy way that makes use of phonics programs to introduce your child to the world of education, in a way that is not boring on repetitive, but rather engaging and visually interesting. The program comes complete with workbooks for every stage, and while some pages will concentrate on visual learning aids, others will also introduce a child to alphabets and words that are appropriate for their learning age. To keep it versatile, each storybook has been done by different illustrators and authors to add more variety, and the quality of art, form and content is very high quality.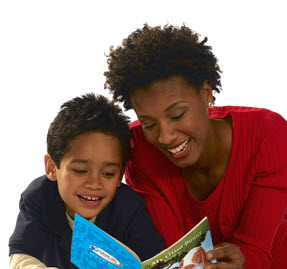 The good news, however, is that while there is so much variety to keep a child intrigued, the format for the workbooks stays the same throughout the program. This allows your little one to get used to the streamlined process that has been designed to ensure that learning becomes fun for every child. The focus is on nurturing and encouraging the thirst for knowledge, rather than depending on an old-fashioned way to cram and learn things that might seem to be a little too-much' for the child to digest and process in one sitting. Instead, what the Hooked on Phonics workbooks have achieved to perfection is a sense of balance; each lesson has been especially designed to offer bite-size pieces of information that the child can learn, process and master with ease, so that you and the child have successfully learn a new concept every single day, and that too while having loads of fun!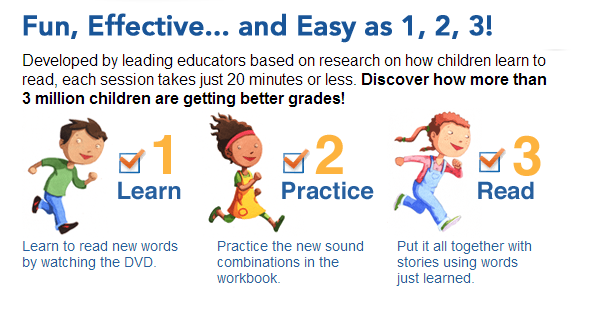 How it works?
Each lesson comes in a certain format. There is a DVD that needs to be watched first, and this visual aid will introduce the child to the lesson of the day and build up his/her level of interest. Next follows the workbook where the lesson learn earlier are practiced and mastered through reading. To end it, there is a reward sticker' to celebrate success!
The DVDs are designed in a way that they take a child through lessons level by level. Each lesson will have visual features as well as audio features, along with animated letters that visually helps them relate the sound (through audio) to the written word (through visual). Once a few words have been covered, the segment will repeat so that the child feels encouraged to read the word he or she has learn earlier before the automated speaker says out the word. It's kind of a game format, which is why the child has fun practicing and stays interested.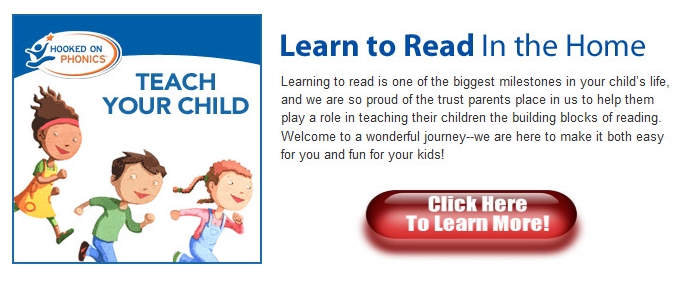 Lessons require no more than 20 minutes each; their length designed to fit right in to the busy schedule of parents who want to spend a few minutes every night building up their child's reading skills without it having to interfere with other chores. Also, it gives them the perfect opportunity to spend some quality child with their little one doing something productive!
What does it include?
For those who want the complete package that offers them complete education material from pre-school to 2nd grade, the FULL PACK is a great investment. It comes with:
·Learn to Read Pre-K Complete
·Learn to Read Kindergarten Complete
·Learn to Read First Grade Complete
·Learn to Read Second Grade Complete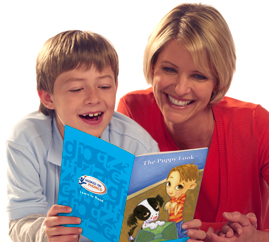 To make learning from these guides more fun, you also get with them 28 Storybooks, 8 Workbooks, 8 Celebrated author storybooks, 8 Sticker sets to celebrate success, 8 DVDs, 4 Sets of picture and letter flashcards for aided learning, very handy Quick Start Guides and Access to the online forum of My.HookedOnPhonics.com so that you can see how to take each lesson forward in the best possible way.
The full package will also include 4 Review workbooks to chart success, 3 Phonics flip-books for aided learning, 1 Sing-along CD for some more fun and games, 1 DVD with music and cartoons to keep your child entertained while he/she learns and 1 Make-a-book kit to make this a truly fun project.
Who is it for?
Hooked on Phonics is ideal for any parent or teacher who wants to ensure that the child does not struggle with learning or keeping up with their classmates at school. More often than not, conventional ways of teaching leads to distractions, because the child is not really enjoying the lesson and doesn't appreciate the joys of learning. This is where these workbooks step in – they are fun and rewarding and instills in a child the interest to learn more because the child wants to learn' and is not being forced to learn'.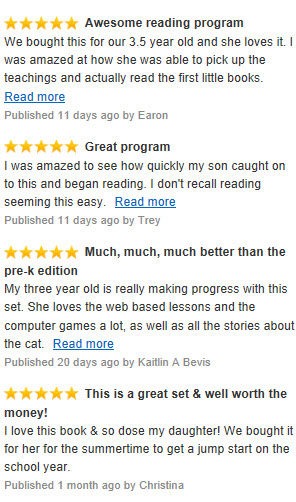 It will be the best investment you make in your child's education because it is a gentle and effective approach to teach your child to read. It can be very rewarding to see your child start reading real books' from an early stage! Not to mention, it also helps a child develop a healthier attitude towards learning, which will come in handy all through his or her education for life.
Pros and Cons of Hooked on Phonics
The Pluses:
The program appeals to children and they are more than happy to sit by themselves and go through the workbooks. It means less supervision or coaxing to learn Interactive fun way to learn using CD- Rom and DVDs that keeps the child engaged:
·Each lesson designed in the perfect way to be the ideal length so that it teaches the child a new concept before the child gets bored or distracted
·30 day money back guarantee
The Minuses
·Expensive compared to other such programs out there, though it is the most versatile
·Not even variations in games
·Only teaches reading, not writing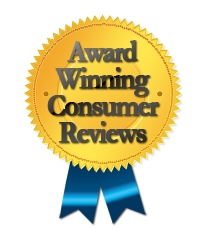 The USP of Hooked on Phonics is that it is clear, crisp and understandable. It is also great for teachers who can introduce new lessons without having to waste a lot of time. It is easier to use than many other programs out there because the training time needed is far lesser, while there is also no need for guess-work. It's engaging and colorful, and the instructions are complete. Whether you want to make home-schooling fun for your child, or are a teacher looking for fun and easy ways to introduce a new lesson, the Hooked on Phonics is highly recommended.
Click below to visit their site and learn more.